Earth Day Celebration at Wana Duma Eco-Village
Last week, members of Wana Duma Children's Project (WDCP) gathered together for a very special tree planting celebration. The kids, on school break, had just spent three amazing days together in discussion and activities facilitated by guest intern, Harison Wamani. Topics such as road and personal safety, disease prevention, team work and goal setting culminated with a day researching Nobel Laureate Wangari Maathai.
Wangari Maathai, born April 1st, 1940 in Kenya, was the first African woman to win a Nobel Peace Prize. She is revered in Kenya, and around the world, for her tireless work in conservation, sustainable development, women's rights and education. An inspiration to us all, Wana Duma Children's Project has continued her personal tradition of planting trees to mark special occasions and events. Each year we plant many of "Wangari's Trees" - species that Maathai worked hard to save in her lifetime which are endangered in Kenya due to rapid deforestation.
After watching the movie Taking Root: The Vision of Wangari Maathai (streaming available for free here) the kids were very excited to plant their very own trees the next day at Eco-Village...BUT...Kenya is experiencing a lingering drought. The seasonal rains are more than a month late this year.
Encouraged by two days in a row of small rains, WDCP's founder, Susanne Garrison and foreman, Paul Mbogua, had purchased 100 trees earlier in the week (from a WDCP graduate who runs her own nursery!!!!). As the planting day got closer and the rains disappeared we struggled with what to do! People were coming! The land was prepped. The kids 'got it', they understood the importance of the task ahead and were excited to plant their very own tree like Wangari. We had planned a fun day for our families - transportation, food, laughter, freedom from work - that doesn't happen often for the population we serve.
The day arrived (along with 50+ people)...the rains did not. A new plan was quickly formed - we would only plant the 10 strongest trees and we would plant them at the top of the property where they could be easily hand-watered for as long as needed. The fathers and older boys quickly set to work digging new holes. Wamani helped the kids divide into planting teams so everyone would get a chance to participate. Team names were thrown out - Team Fabulous, Team Indivisible, Team Mommas, etc. Every team grabbed a tree and went about their task with smiles, laughter and determination!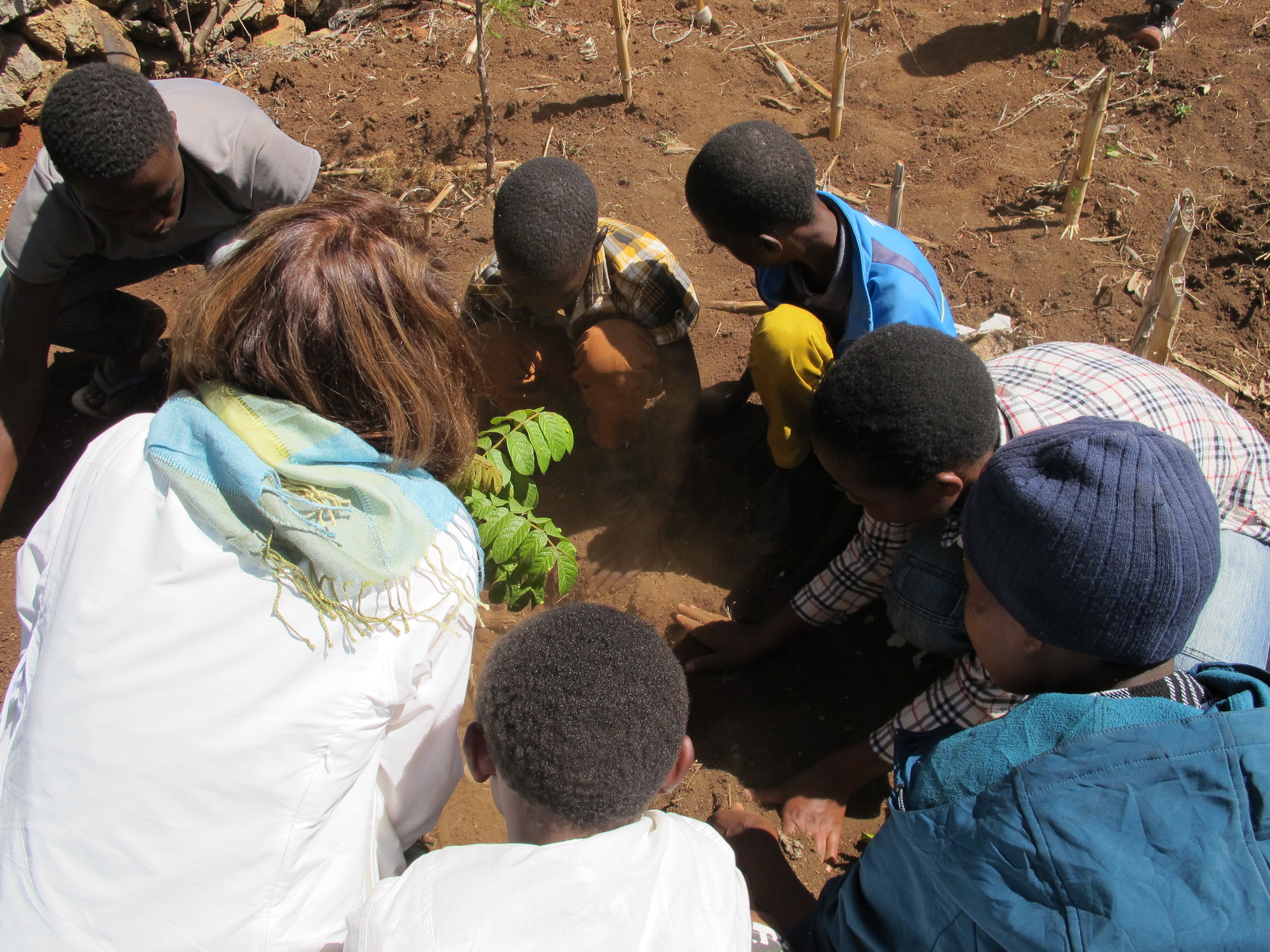 Next came the watering! Bottle by bottle we deeply hand-watered each tree from our precious reserve. Until recently, all water at Eco-Village has been gathered through a series of rain water collection gutters and stored in tanks. Over the last several months we have been installing a solar-water pump thanks in part to a generous grant from Rotary District 5080 Washington, Idaho, and Canada - much more about that in future posts! Susanne and Paul took the kids down to the river to see the progress. They were overjoyed at the sight of water and had a wonderful time splashing and having fun!
What a wonderful day to cap off an incredible week! Our work continues at Eco-Village. Last year's maize harvest fed our families for six months. The solar-pump and water storage system will help increase crop yields (even in times of drought) and feed more hungry families. This special place is our future. Each tree a child plants on this land is a contribution, an investment and a promise. As Wangari Maathai said, "Anybody can dig a hole and plant a tree. But make sure it survives. You have to nurture it, you have to water it, you have to keep at it until it becomes rooted so it can take care or itself. There are so many enemies of trees."
Thank you for continuing to nurture and make our work possible. We have many dreams for Wana Duma Eco-Village. If you would like to help make those come true, please consider making a tax-deductible donation. Thank you!